2021 Universal Sieger
V-Argo von Schweizer
Owner: Laurie Schweizer
Performance award with 5/5 
USA Bred, BHOT
2021 Universal Siegerin
V-Basha vom Fallamhain
Owner: Ashley Foersch
USA Bred, HOT
---
2020 Universal Sieger
none, due to COVID-19 cancelling National Events
2020 Universal Siegerin
none, due to COVID-19 cancelling National Events
---
2019 Universal Sieger
V-Sky von Danubius
Owner: Nelli Racsko
USA Bred, BHOT, HOT
2019 Universal Siegerin
V-Xora van Meerhout 
Owner: Jesse Gabriel
USA Bred, HOT
---
2018 Universal Sieger
V-Moose von Hugelblick
Owner: Jennifer Flynn
Performance award with 5/5 
USA Bred, HOT
2018 Universal Siegerin
V-Xora van Meerhout 
Owner: Jesse Gabriel
Performance award with 5/5 
USA Bred, HOT

L-R: Cherie Flores, Jennifer Flynn, Denise Scelsi, Mark Pellon & Jessy Gabriel
---
2017 Universal Siegerin
V Xora van Meerhout IPO3 FH2 KKl
Performance Award with 5/5 Rating
Owner: Jesse Gabriel
WUSV Universal Sieger Program
The Universal Sieger program was designed to promote the breeding of the German Shepherd Dog in the United States of America, addressing both physical qualities and character attributes. The Universal Sieger reveals the most impressive feature of the breed's versatile working abilities.
The United Schutzhund Clubs of America recognizes and awards a Universal Sieger and Siegerin each year. To compete for this prestigious title; the dog must be owned by a resident of the United States of America, be Breed Surveyed, be shown in the USCA Sieger Show, and have trialed in the USCA GSD National Championship.
USCA Universal Siegerin V- Xora van Meerhout IPO3, FH2, KKL.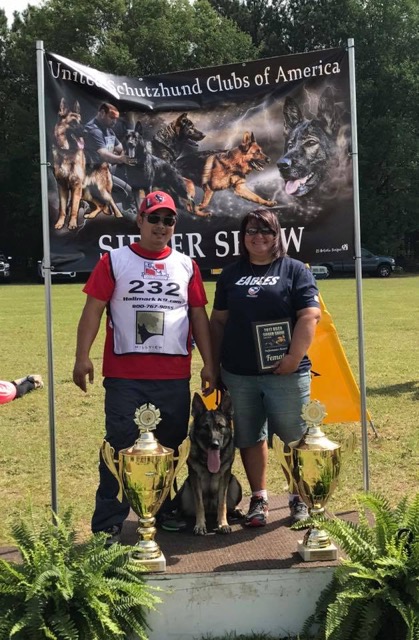 CONGRATULATIONS to 2016 USCA WUSV Universal Sieger Team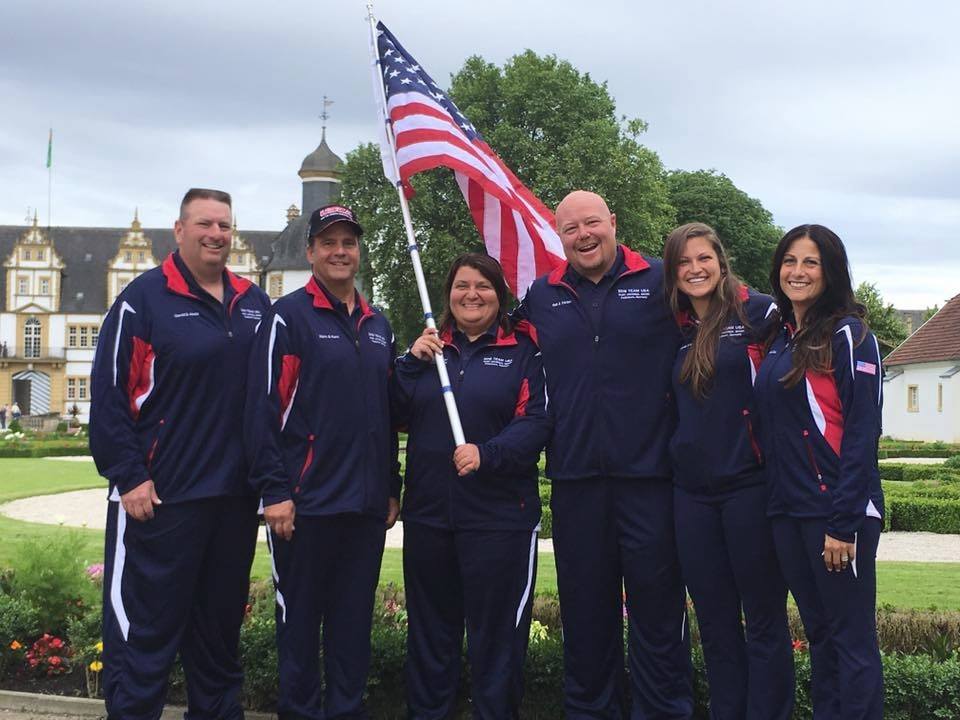 Placing 3rd at the World Competition
Dave Mitchell with Asolo von Lupus Alpha
Mark Scarberry with Kent von Aurora Teufelblut
Team Captain Jessy Gabriel
Rob Dunn with Tristan von Haus Pixner
Amanda Homan with Kona von Eichenluft
Gina Pfeffer with Dux von Hugelblick
All five of the Team dogs were Handler Owner Trained and Titled