SV Harald Hohmann – All Males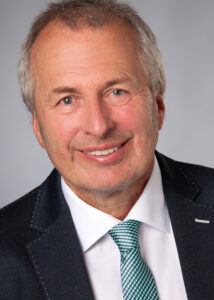 Mr. Hohmann joined the SV in 1977 and has been on the board of his Landesgroup since 1994. Since 2007 he has been the chairman of Landesgroup Baden in Southwest Germany. He has trained many German Shepherds in Schutzhund and has competed often on all levels of trials. Herr Hohmann has been a working judge since 1987 and is also a show judge and "Körmeister".
He breeds dogs under the kennel name of "von Melanchthon."  He scored numerous notable successes at trials and confirmation shows, at least he got several VA- titles with his dogs!
He was appointed to judge the protection of the German Siegershow three times and in 2017 he judged the young dog class females.
In his professional life, Herr Hohmann is a police officer and in charge of a large K-9 department in Baden-Württemberg, Germany. He has been a K-9 handler and competed with police dogs on every level, including the Bundessiegerprüfung.
ACOA & SV International Special Judge of Breeding Evaluation Roberto Caputi – All Females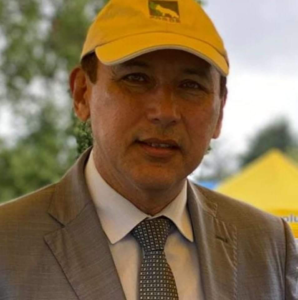 Engineer and Master in Business Administration – MBA by the IDE Business School.
Member of the board of the WUSV, President of COAPA, President of ACOA-Ecuador. Member of the S.V. Germany since 1998.
International Special Judge of Breeding Evaluation Certified by the SV of Germany, Breeding Judge and Kormeister of ACOA-ECUADOR, COAPA since 1993. National Special Judge of Performance Evaluation certified by the SV of Germany.
DI CASA CAPUTI Kennel. With his team and dogs, he has competed successfully in Germany, Argentina, Austria, Belgium, Colombia, Chile, China, Costa Rica, Ecuador, Italy Mexico, Neerherlands, Nicaragua, Peru and Venezuela. Including more than 50 times the VA worldwide.
Among his achievements as DI CASA CAPUTI in Siegerschau in Germany are: 4th Best Kennel in the world BSZS 2019; VA2 & VA4 BSZS * Baisha Di Casa Caputi; 2xV5 BSZS *Don Di Casa Caputi SG2 BSZS *Luther Di Casa Caputi; V18 BSZS Efo Di Casa Caputi; SG8 Rosemilia Di Casa Caputi, SG14 Odisea Di Casa Caputi and SG 20 Nala Di Casa Caputi.
He has judged near 300 shows around the world.
He has judged in the Siegers of Bolivia, Brazil, Chile, Ecuador, El Salvador, Italy, Nicaragua, Republic of China, Russia, Spain, Uruguay and Venezuela.
He has taught official courses, including seminars for judges. Since 1999, he has been a delegate from Ecuador to the USV congresses in Karlsruhe, Kassel, Ulm, Oberhausen, Braunshweig, Aaachen and Nürnberg. To the COAPA congresses in Lima, Rio de Janeiro, Santiago de Chile, Guadalajara Mexico, Bogotá, Buenos Aires, Porto Aiegre and Quito.
Nathaniel Roque
Trial and Performance Judge - USCA/SV Judge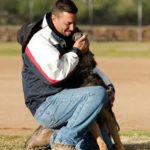 During his 20 plus years of involvement in Schutzhund / Working Dog Sport, Nathaniel has earned titles on eleven (11) dogs. Including Handler Owner Trained (HOT) from Bh to SchH / IPO3, FH, FH2. To date he has entered and competed in hundreds of United Schutzhund Clubs of America Trials with his dogs at the club, regional and national level. He is currently training a new HOT GSD that should be earning its titles and competing in 2016.
Nathaniel and his dogs have earned numerous Schutzhund and IPO, FH/FH2 titles including: 2002 & 2007 Southwest Regional SchH 3 Champion, 2002 USCA Universal Sieger, 100 pt "V" FH and awarded the first 100 pt "V"FH2 title in USCA. He has qualified and over the past 20 years competed in the following championships: USCA GSD National, Regional (SW,NM,NE), North American, Working Dog, German Shepherd Dog Qualifier and FH . As a member he has earned: member Schutzhund 3 Club, awarded the USCA Bronze, Silver, Gold and Master Sports Medals within his first 5 years of membership.
He has been active in the United Schutzhund Clubs of America at all levels, having served as Vice President, Regional Director, Executive Board Member at Large, Helper Program Director, Teaching Helper, Trial Judge and currently as Director of Judges since 2009. At the club level he has been the Training Director / Helper for Southwest Working Dog Association for the past 14 years and has participated in the training and titling of many HOT titles and SchH 3 Club members totaling more than 175 Schutzhund Titles for members of his club.
Quote from Nathaniel: "I believe that the United Schutzhund Clubs of America is the Premier German Shepherd Dog and Working Dog Sport Organization in the United States. I'm dedicated to working to maintain the USCA status and leadership in the world of dog sport and I am passionate about preserving the working heritage of the GSD and all breeds of working dogs by using working dog trials / breed surveys / conformation as ways to evaluate our dogs.
I am grateful to be involved with our organization and I value the trust placed in me by the membership for my decisions both as an Executive Board Member as well as a Judge on the trial field. I will always do my best to be correct and fair based on the trial rules while judging working dog teams in competition."
All Helpers – TBD