USCA NBW Heidi Theis – All Stock Coat Males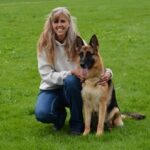 To all competitors this weekend, I wish you all the very best of luck and a stress-free, fun-filled weekend!
My name is Heidi Theis and I am the current USCA National Breed Warden (NBW) and Fully Licensed Performance Judge #48, Conformation/Breed Survey Judge #C4 for USCA.  As the NBW, I serve USCA as a line officer and as the Chair of the Breed Advisory Committee (BAC). According to my guidance, the BAC collectively updates breeding regulations, breed survey or conformation show regulations, and makes decisions for our Sieger Shows.
I started training dogs as a Youth Member for USCA in the Summer of 1987, when I was 17 years old and I am the first Youth Member to become a judge for USCA!  I trained and titled my first dog to SchH 3 but because there were not enough breed surveys back then, I unfortunately never had her breed surveyed.  I truly enjoyed working that dog in sport and she helped me know early on that I wanted to become a Performance Judge for USCA one day.
Through my time at my first Schutzhund Club, in addition to learning how to train and title various types of working temperaments, I also learned to handle dogs in the show ring for the show line breeder who ran the club. After learning, I went on to handle for many years at the local, regional, and national levels.  I was always full in every class when handled for those 25 years and back in the mid '90s to early 2000's, there were a minimum of 5 shows a year in my very close geographical area.  Through this vast handling experience and hearing critique after critique, I learned two things.  I quickly learned the German terms of their critiques, so I knew what the SV judges were saying and I also learned what structure looked like as they described the dogs through their critiques. It was a wonderful time to learn and be in the dog sport, I'm very grateful for those years.
Please enjoy my accomplishments in USCA thus far…  super proud of that FH 2 this year!
Current Training Director for local USCA PNW Club, Treasure Valley WDC in Middleton, ID
USCA Gold Sports Medal Recipient; 2001 North American SchH 3 Tracklayer
7-time member of USCA's SchH/IPO/IGP 3 club, 6 of these dogs are from my breeding
2010 PNW Regionals, 3rd place with *V-BeDarthVader vom Theishof SchH 3, FH 2, IPO 3
1999 SW Regional Championships, 8th place with *V-Briggitta vom Theishof SchH 3, IPO 3
Titles earned: 18 SchH/IPO/IGP 3, 16 SchH/IPO/IGP 2, 25 SchH/IPO/IGP 1, 2 FH 1, 1 FH 2, 32 BH,17 AD, 2 TR 1, 1 TR 2, 1 OB 1, and 1 WH
39 KKL 1/KKL 2/KKL/Ang. earned; 71 show ratings earned, including highest Sieger Show rating of VA on VA-10 Ax Redox SchH 3, KKL 1a
2009 USCA Sieger Show – 1st Annual Performance Award & V Show rating – *V-BeDarthVader vom Theishof SchH 3, FH 2, IPO 3
2014/2015 USCA Sieger Shows V with 4/5 performance on *V-Jill vom Theishof SchH 1, FH 1, IPO 3
2019 USCA Sieger Show V & Performance Award 4/5 on *V-Ennie vom Theishof IPO 1, IGP 2
USCA Karen MacIntyre – All Stock Coat Females

I left the corporate world in 1999 after 18 years as Principal Hardware Design Engineer in Networking at Digital Equipment and then a Field Application Engineer for Cypress Semiconductor. I then helped my late husband with a start up and taught at Vermont Technical College. I am currently an Electrical Engineering adjunct professor for New Hampshire Technical Institute.
My unique education includes, a BS in Animal and Pre-Veterinary Science and a BSEE equivalent, both from the University of Vermont, along with a MSECE from the University of Massachusetts at Amherst. I became a USCA Conformation judge in 1998, a Schutzhund/IGP judge in 2005, Kormeister in 2006 and RH judge in 2007. I served as USCA's National Breed Warden from 2004-2006 and 2012-2014
I started competing in AKC obedience trials in 1979, NASA Schutzhund trials in 1982, USCA Schutzhund trials in 1983. My first breed show was in 1985 and my first breed survey was in 1987. I have been a member of the SV since 1994. My USCA registered kennel is Mack-Zwinger. I whelped my first litter in 1981 [ my first of many SchH3 club dogs came from that litter.] Since then I have titled 18+ dogs to many levels, 11 from my own breeding, most owner raised and trained and breed surveyed. 7 dogs from my breeding program competed in the 2019 WDC.
Some accomplishments of my own dogs: I bred raised and trained 1991 Canadian Siegerin, 2015 and 2019 New England Universal Siegers, 2019 USCA FH champion (also a National competitor, RH2-TB and IPWDA cadaver and water certified) and 2019 Regional IGP3 Champion, V Jaecar vom Mack-Zwinger IGP3 FH KKl, who has earned a spot on the 2021 USCA Universal Team
USCA Richard Shook – All Long Stock Coat Males & Females

My name is Richard Shook.   I reside in Claremont, NC with my wife, Maggie, and daughter, Annabelle.  I have been involved in the Schutzhund sport since 1991 and a member of USCA since 1995.   I have titled numerous dogs to IGP3, Breed Survey, competed at multiple regional championships, and competed at the USCA National IGP Championship 5 times with 4 different dogs.  I competed at the 1995 FCI World IGP Championship with my dog Caine Manor Jacob.
I have been a Teaching Helper for USCA since 2015. I have done helper work in numerous Regional IGP Championships and the 1995 USCA Sieger Show.   I have been the president and training director of Piedmont Schutzhund Club since 2009 and the Regional Director of the Southeast Region since 2019.   I have been the show chair for the Southeast Regional Conformation Show 5 times.   I was the event co-chair for the 2019 USCA Sieger Show.
I have been breeding German Shepherd Dogs under the kennel name, "from the Southland" since 2007.  Numerous dogs from my breeding program have earned IGP titles, breed surveys and "V" ratings in conformation.  I received my USCA Conformation Judge's and Breed Master licenses in 2019.   I am honored to be chosen to judge the long coat males and females at the 2021 USCA Sieger Show.
Nathaniel Roque
Trial and Performance Judge - USCA/SV Judge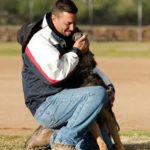 During his 20 plus years of involvement in Schutzhund / Working Dog Sport, Nathaniel has earned titles on eleven (11) dogs. Including Handler Owner Trained (HOT) from Bh to SchH / IPO3, FH, FH2. To date he has entered and competed in hundreds of United Schutzhund Clubs of America Trials with his dogs at the club, regional and national level. He is currently training a new HOT GSD that should be earning its titles and competing in 2016.
Nathaniel and his dogs have earned numerous Schutzhund and IPO, FH/FH2 titles including: 2002 & 2007 Southwest Regional SchH 3 Champion, 2002 USCA Universal Sieger, 100 pt "V" FH and awarded the first 100 pt "V"FH2 title in USCA. He has qualified and over the past 20 years competed in the following championships: USCA GSD National, Regional (SW,NM,NE), North American, Working Dog, German Shepherd Dog Qualifier and FH . As a member he has earned: member Schutzhund 3 Club, awarded the USCA Bronze, Silver, Gold and Master Sports Medals within his first 5 years of membership.
He has been active in the United Schutzhund Clubs of America at all levels, having served as Vice President, Regional Director, Executive Board Member at Large, Helper Program Director, Teaching Helper, Trial Judge and currently as Director of Judges since 2009. At the club level he has been the Training Director / Helper for Southwest Working Dog Association for the past 14 years and has participated in the training and titling of many HOT titles and SchH 3 Club members totaling more than 175 Schutzhund Titles for members of his club.
Quote from Nathaniel: "I believe that the United Schutzhund Clubs of America is the Premier German Shepherd Dog and Working Dog Sport Organization in the United States. I'm dedicated to working to maintain the USCA status and leadership in the world of dog sport and I am passionate about preserving the working heritage of the GSD and all breeds of working dogs by using working dog trials / breed surveys / conformation as ways to evaluate our dogs.
I am grateful to be involved with our organization and I value the trust placed in me by the membership for my decisions both as an Executive Board Member as well as a Judge on the trial field. I will always do my best to be correct and fair based on the trial rules while judging working dog teams in competition."
[/vc_row_inner]
Head Helper – Sean Murphy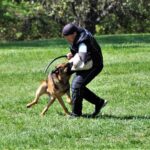 I have been a member of South Michigan Schutzhund and Police Club for 20 years.  I have been fortunate enough to work many trials, including over 30 club trials, 8 regional, and 15 National events. This will be my 7th Sieger Show.  I have had many mentors over the years, both human and canine, and none of this would be possible without them. Thank you to those who continually support me. I truly appreciate all the opportunities I've been given over the years, and thank the Helper Committee members and Breed Advisory Committee for selecting me for this event.  I look forward to seeing many of the faces I have met over the years, and making new acquaintances. Best of luck to all!
2008- Mid East Regional SchH3 front half helper

2009- Working Dog Championship SchH1 & SchH2

2009- Mid East Regional SchH3 front half helper

2009- USCA Nationals front half helper

2010- Working Dog Championship front half helper (injured at the event)

2010- Mid East Regional SchH3 front half helper

2011- USCA Nationals front half alternate

2012- Working Dog Championship front half helper

2012- AWDF Championship front half helper

2012- Mid East Regional SchH3 front half helper

2012- USCA Nationals front half helper

2013- USCA Sieger Show back half Females

2014- USCA Sieger Show back half Females

2014- Mid East Regional SchH3 front half helper

2015 -Working Dog Championship front half alternate

2015 -USCA Sieger Show front half male

2016 -USCA Sieger Show front half male & female

2017 -USCA Sieger Show front half male & female

2019- USCA Sieger Show front half male

2021- Classified Teaching Helper
Colt Dickson

I started working dogs in 2014. I've had the honor to work with many excellent trainers through the years. It's been a privilege to work the following events:
2021 Working Dog Championship (back half)
2021 SE Regionals (front half)
2020 FMBB Quali Trial (alternate)
2020 Working Dog Championship (preselected-canceled due to covid)
2019 USCA National Championship (alternate)
2019 New England Regionals (back half)
2019 Working Dog Championship (1s & 2s)
2018 USCA National Championship (alternate)
2018 New England Regionals (front half)
2017 New England Regionals (front half)
2016 New England Regionals (1s & 2s)
2016 Southeast Regionals (1s & 2s)
I've also competed with my own dog at:
2016 New England Regionals
2015 USCA National Championship
2015 Southeast Regionals
I now have a young dog (IGP 1 so far) I hope to be competing with soon.
Max Artemchik

I have been a helper and a member of USCA for 6 years. I am the president of O.G. Milchland Schuthzund Club in Milwaukee, WI. I would like to thank the helper committee and breed advisory board for the opportunity to work this great event.
Some of my accomplishments in Schutzhund include:
IPO1 and IPO2 helper at 2017 Northeast Regional Championship
Back-half IPO3 helper at 2018 Midcentral Regional Championship
IPO3 helper at 2016 USABOX National Championship
Helper for 14 club trials
2017 North Central Regional Vice Champion
2018 North Central Regional IPO3 Third Place
2019 North Central Regional Champion
2020 North Central Regional Champion
2019-2020 North Central Regional Universal Sieger
2017-2019 USCA GSD National Competitor
2018 USCA WDC Competitor
2019 USCA National Sieger Show Performance Award Recipient
Domenik Girardi

My name is Domenik Girardi and I was born in Mannheim, Germany but grew up in Chicago, Illinois. I started training for schutzhund in 2016 with a local training group and quickly developed a passion for both training and helper work with my first dog, Mile. Since then I've been working hard to get onto the trial field as a handler and as a helper. I would like to thank the Helper Selection Committee for trusting me with the safe and consistent testing of the dogs at the National Sieger Show and of course my amazing wife Natalie for the unconditional love and support. I'd like to wish the best of luck to all of the competitors!
Some of my accomplishments include:
2019 Mid Central Regional IGP 3 Back half Helper
2019 North Central Regional IGP 3 Front half Helper
2019 North Central Regional Conformation Show helper
2020 North Central Regional IGP 3 Back half Helper
2020 North Central Regional Conformation Show helper