Peter Arth
Male Classes - SV
SV and WUSV Judge
61 years of age, married, 2 sons, 3  grandchildren, Retired
Studies at the Polytechnic in Munich, majoring in electrical


Canine Involvement
1964 – Joined the Verein für Deutsche Schäferhunde (SV), Parent Club. Joined the  Ortsgruppe (Local Club)  Munich
1964 – Registered the Kennel Name "vom Karlsfelder Hof"
1964 until today – active breeder, Exhibiter, Trainer and Protection Work Helper at the local club
Trained around 35 dogs at levels SchH 1,2,3 and FH (TD) and presented these for Breed Survey.
Honorary positions held in the local club,  in the State Club Bayern Süd,  in the Parent Club,  (SV)  and in the State Association  Bayern  (VDH)
1969 until 1996 – Local Club Breed Warden and Training Supervisor
1980 until 1990 – Sport and Youth Coordinator in the State Club, Bayern Süd
1991 until 1992 – Breed Warden in the State Club, Bayern Süd
1991 until 1994 – Federal Youth Coordinator in the Verein für Deutsche Schäferhunde (SV)
2001 until 2004 – Deputy Training Supervisor and Search and Rescue Dog Officer in the LG (State Club) Bayern Süd
2004 until today – Breed Warden of the LG Bayern Süd and Bayern Süd Search and Rescue Dog Officer
1982 until today – Director of the Munich Office of Community Interests which have 12 Local SV Clubs in their membership.
2009 until today – Member of the Board of the VDH National Association, Bavaria
Participation in National Events
1983 – Technical Administrator of the Sieger Hauptzuchtschau in München.
1987 – Technical Administrator of the Siegerprüfung with International German Championships for Service Dog handlers
Honourary positions held in the Verein für Deutsche Schäferhunde (SV)
1977 – Appointed to the Position of SV Breed Judge
1981 – Appointed to the Position of SV Performance Judge (SchH)
1981 – Appointed to the Position of SV Breed Surveyor
2002 – Appointed to the Position of Search and Rescue Dog Judge, RH1
2002 – Appointed to the Position of Search and Rescue Dog Judge, RH
Recent Judging Appointments at Home and Abroad:
Siegerschau Deutschland
1996 Karlsruhe: Schutzdienst Rüden Protection Work –  Dogs
2006 Oberhausen: Schutzdienst Hündinnen Protection Work –  Bitches
2007 Braunschweig: Jugendklasse Hündinnen  Junior Bitches
2009 Ulm: Schutzdienst Rüden Protection Work – Dogs
Breed Judge of WUSV Countries on all 5 Continents for Siegerschauen / Nationals, and at International Shows of the FCI and of the VDH.
Richard Brauch
Female Classes - SV
Profession: Business Lawyer and Tax Consultant
SV-Data
– Member of the SV since 1966
– Kennel Name "vom Elzmündungsraum"
– Breeding about 120 Litters since 1971  (www.elzmuendungsraum.de)
–
Highest rated dogs out of the kennel since 2000:
Xantia (SG3 2000, VA2 2002)
Gigolo (Bronze medal winner and VA Australia)
 Ken (Young-dog-Sieger 2004 /V2 2005)
 Digger (V23 2007, V11 2008, V8 2009, V4 2010, VA4 Spain, VA1 Swiss Siegerschau 2009)
 Daphne (V8 2008)
 Gower (VA3 Swiss Siegershow 2012, VA2 Siegerschau United States 2014)
 Fax (V38 Siegerschau 2012, VA3+VA6 United States 2013 und 2014)
SV-Judge since 1996
SV-Breed Surveyer since 2001
Judging activities in more than 40 different countries all over the world including Siegershows in: Germany, Argentinia, Australia, Austria, Bulgaria, Estonia, France, Hungaria, Italy, Latvia, Philipines, Romania, Spain, Switzerland, United States, Ukraine
Nathaniel Roque
Trial and Performance Judge - USCA/SV Judge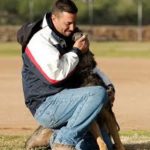 During his 20 plus years of involvement in Schutzhund / Working Dog Sport, Nathaniel has earned titles on eleven (11) dogs. Including Handler Owner Trained (HOT) from Bh to SchH / IPO3, FH, FH2. To date he has entered and competed in hundreds of United Schutzhund Clubs of America Trials with his dogs at the club, regional and national level. He is currently training a new HOT GSD that should be earning its titles and competing in 2016.
Nathaniel and his dogs have earned numerous Schutzhund and IPO, FH/FH2 titles including: 2002 & 2007 Southwest Regional SchH 3 Champion, 2002 USCA Universal Sieger, 100 pt "V" FH and awarded the first 100 pt "V"FH2 title in USCA. He has qualified and over the past 20 years competed in the following championships: USCA GSD National, Regional (SW,NM,NE), North American, Working Dog, German Shepherd Dog Qualifier and FH . As a member he has earned: member Schutzhund 3 Club, awarded the USCA Bronze, Silver, Gold and Master Sports Medals within his first 5 years of membership.
He has been active in the United Schutzhund Clubs of America at all levels, having served as Vice President, Regional Director, Executive Board Member at Large, Helper Program Director, Teaching Helper, Trial Judge and currently as Director of Judges since 2009. At the club level he has been the Training Director / Helper for Southwest Working Dog Association for the past 14 years and has participated in the training and titling of many HOT titles and SchH 3 Club members totaling more than 175 Schutzhund Titles for members of his club.
Quote from Nathaniel: "I believe that the United Schutzhund Clubs of America is the Premier German Shepherd Dog and Working Dog Sport Organization in the United States. I'm dedicated to working to maintain the USCA status and leadership in the world of dog sport and I am passionate about preserving the working heritage of the GSD and all breeds of working dogs by using working dog trials / breed surveys / conformation as ways to evaluate our dogs.
I am grateful to be involved with our organization and I value the trust placed in me by the membership for my decisions both as an Executive Board Member as well as a Judge on the trial field. I will always do my best to be correct and fair based on the trial rules while judging working dog teams in competition."