SV NBW Bernd Weber – Males
SV Erich Bosl – Females
Nathaniel Roque
Trial and Performance Judge - USCA/SV Judge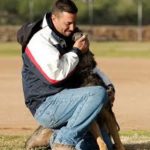 During his 20 plus years of involvement in Schutzhund / Working Dog Sport, Nathaniel has earned titles on eleven (11) dogs. Including Handler Owner Trained (HOT) from Bh to SchH / IPO3, FH, FH2. To date he has entered and competed in hundreds of United Schutzhund Clubs of America Trials with his dogs at the club, regional and national level. He is currently training a new HOT GSD that should be earning its titles and competing in 2016.
Nathaniel and his dogs have earned numerous Schutzhund and IPO, FH/FH2 titles including: 2002 & 2007 Southwest Regional SchH 3 Champion, 2002 USCA Universal Sieger, 100 pt "V" FH and awarded the first 100 pt "V"FH2 title in USCA. He has qualified and over the past 20 years competed in the following championships: USCA GSD National, Regional (SW,NM,NE), North American, Working Dog, German Shepherd Dog Qualifier and FH . As a member he has earned: member Schutzhund 3 Club, awarded the USCA Bronze, Silver, Gold and Master Sports Medals within his first 5 years of membership.
He has been active in the United Schutzhund Clubs of America at all levels, having served as Vice President, Regional Director, Executive Board Member at Large, Helper Program Director, Teaching Helper, Trial Judge and currently as Director of Judges since 2009. At the club level he has been the Training Director / Helper for Southwest Working Dog Association for the past 14 years and has participated in the training and titling of many HOT titles and SchH 3 Club members totaling more than 175 Schutzhund Titles for members of his club.
Quote from Nathaniel: "I believe that the United Schutzhund Clubs of America is the Premier German Shepherd Dog and Working Dog Sport Organization in the United States. I'm dedicated to working to maintain the USCA status and leadership in the world of dog sport and I am passionate about preserving the working heritage of the GSD and all breeds of working dogs by using working dog trials / breed surveys / conformation as ways to evaluate our dogs.
I am grateful to be involved with our organization and I value the trust placed in me by the membership for my decisions both as an Executive Board Member as well as a Judge on the trial field. I will always do my best to be correct and fair based on the trial rules while judging working dog teams in competition."
[/vc_row_inner]
Helpers to be announced